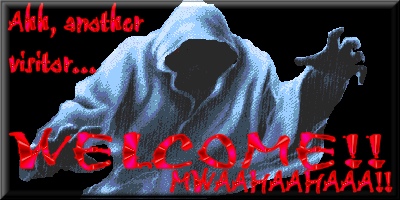 You made it through Hood Mansion! Or at least part of it...
Come pick your prize...and be sure to be honest, or the ghosts of Hood Mansion may haunt you forever! Mwaaahaaahaahaa!!!!
There are at least 80 keys and words in the house. No one has ever found them all!! Did you come close?
12-35 keys and words: you missed a lot! Come back and look around some more! Claim your prize here!
36-50 keys and words: Not too bad, but there's a lot more to see! Come back and visit when you have time! Claim your prize here!
51+ keys and words: Awesome! You were really brave to spend so much time in Hood Mansion! Claim your prize here!
To claim your prize, right click on the graphic, chose "Save As" and save it to your hard drive. You cannot directly link to any graphic from this site--Tripod doesn't allow remote loading.