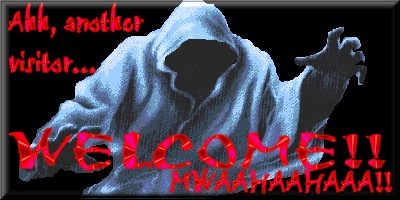 Welcome to Hood Mansion, one of the Web's Premier Virtual Haunted Houses! Hood Mansion is kid-safe, but tricky enough for adults as well! There are hundreds of rooms, hallways, trapdoors, and secret nooks, creepy and surprising things are hidden everywhere.
Hidden all over the house there are a number of golden keys.

I won't tell you how many there are...but no one has ever found them all! Mwaaahaaahaaa!!!!

You must search every nook and cranny to find all of the keys. To find them, run your cursor over the pages until you find a link. Some links and pop-ups lead to keys, some to other rooms, some to dead ends, some to nothing at all. Each key has a secret word to help you keep track of your progress. Don't let the names of the pages fool you--not all the keys are in order, nor are they all on pages that are numbered. So if you see a link to a page that's called key87.html, don't assume that 87 is the total number of keys to be found: there may be more, there may be less ;)

More rooms and more keys will be added at unknown intervals. Some rooms may disappear for a time only to reappear later. So keep coming back--you'll never know what you may find!

There are a few things you need to bring with you. You will need a vial of recovery potion, a can of all-purpose ghost, ghoul and bat repellent, and a good sturdy pair of shoes to stomp things with. Here is the potion and repellent. You'll have to bring your own shoes!


Here is a graphic you can take for your website to prove you were brave enough to enter Hood Mansion: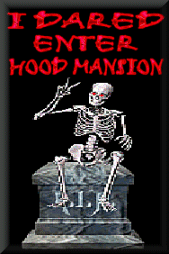 Save image by right-clicking on it and going to "Save As." Please do not try to link to this image! Tripod does not allow remote loading. This is a Kid Safe Virtual Haunted House.
&copy2005 Ariel Elfsong. If you have any questions or comments, please contact Ariel Elfsong.